2023 Elections
Ngāti Whātua Ōrākei Trust Board
Voting packs are on their way!! Please keep an eye on your letterbox. Make sure to read the Information sheet inside your voting pack to understand what you are voting for and the closing dates. Click here to read the voting pack information sheet.
This year's elections will be held to appoint four (4) whānau members to act as Elected Representatives of the Ngāti Whātua Ōrākei Trust (the "Trust"). The elections process and timetable is largely determined by the requirements set out in the Ngāti Whātua Ōrākei Trust Deed ("Trust Deed") which you can download here.
Six nominations have been confirmed for this process for four available vacancies on the Trust. Click here to read the candidate profiles.
Elections FAQ 2023
Below is some important information in relation to the role of an Elected Representative, the elections process and the eligibility requirements. Or watch here.
Meet The Candidates
A meet the candidates hui will be held on Sunday 8th October 2023 at Ōrākei Marae starting at 10:00am.
This is an opportunity for whānau to hear from candidates regarding their nomination. Candidates will be provided an equal amount of time to talk to their nomination. Whānau are encouraged to attend either in person, or join online via Zoom to learn more about our whānau candidates.
Please check the NWO whānau epānui for the Zoom link to this hui.
Voting will be conducted by postal and online voting with voting opening on Monday 2nd October 2023 and closing at 12 Noon, Friday 17th November 2023.
Keep an eye on your letterbox e te whānau. If you feel that you may not receive your voting papers, please make sure your details are updated here.
2023 Elections Key Dates
Nominations open Friday, 11 August 2023 - COMPLETE
Nominations close Friday, 1 September 2023 - COMPLETE
The public notice of the elections and AGM will be published in the NZ Herald and online via e-pānui.
Voting packs will be posted to all registered adult hapū members (over the age of 18 years) with a valid postal address.
Voting opens Monday, 2 October 2023
Meet the candidates hui, 8 October 2023
Voting will close at 12.00 noon on Friday, 17 November 2023.
The results will be announced at the 2023 Ngāti Whātua Ōrākei AGM on Sunday, 26 November 2023.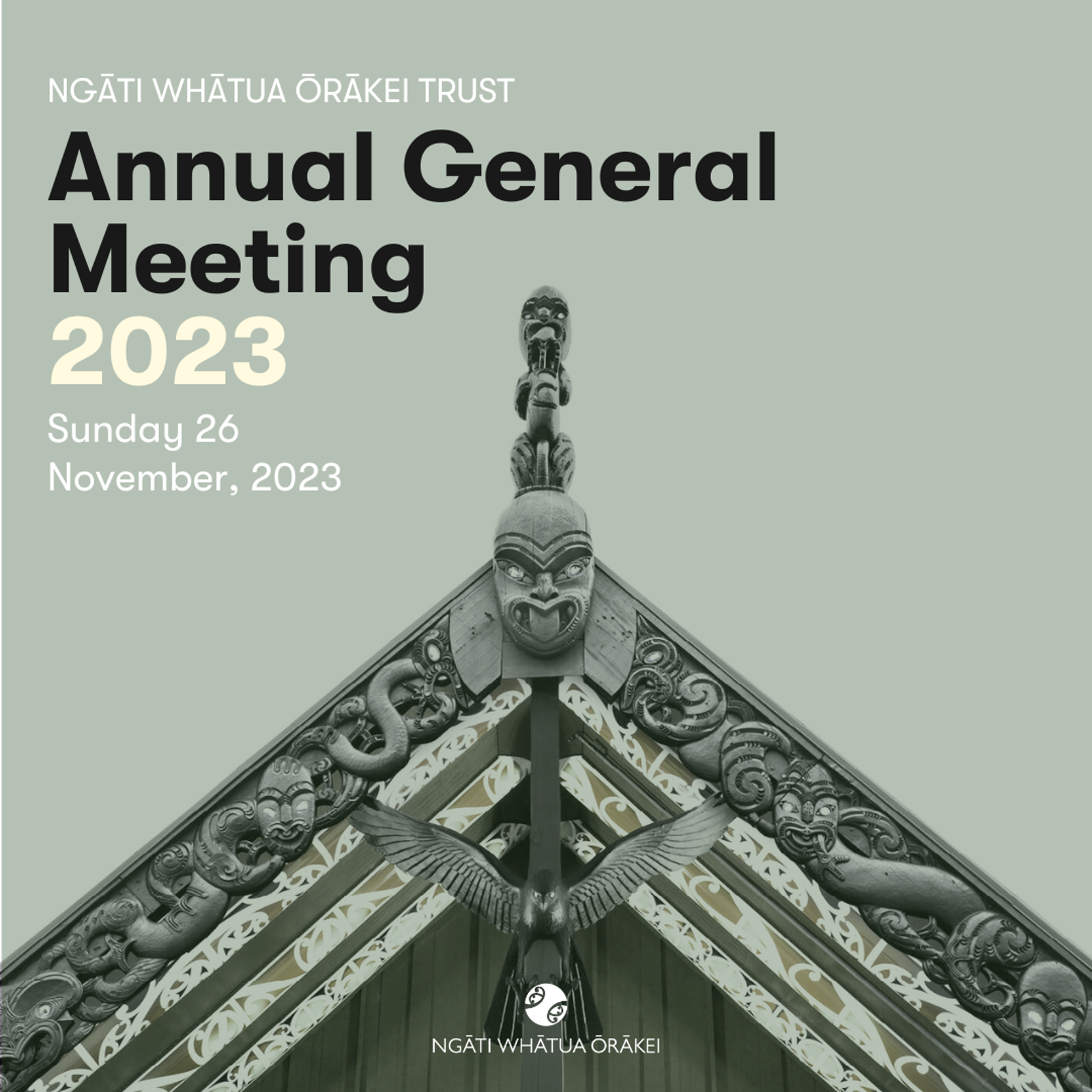 Behind the scenes with the Trust Board
Elections, Governance, Trust Board, what does it all mean?
We caught up with Ngāti Whātua Ōrākei Trust Board Members Sharon Hawke and Graham Tipene, and Trust CEO Lisa Davis, to hear about Governance, working on and with the Trust Board, and upcoming elections. Mātakitaki mai, areare mai e te iwi.
Who do I contact about any concerns over the elections process?
The Chief Returning Officer, Warwick Lampp, Electionz
Phone: 0800 666 040 or email info@electionz.com
What happens if my voting pack does not arrive?
Please contact Electionz to request a replacement on: 
0800 666 040 or email info@electionz.com
How do I update my details
You can update your details via the hono app, or by contacting us at 0508 NWO Orakei (09) 336 1670, or info@nwo.iwi.nz
General enquiries
Please contact us via 0508 NWO Orakei (09) 336 1670 or info@nwo.iwi.nz