Housing
Housing for members of Ngāti Whātua Ōrākei
Warm, safe kāinga for hapū members is a priority for Ngāti Whātua Ōrākei. Within this, we must also look for ways to help whānau who need that extra assistance, to secure a warm and safe kāinga in which to raise their whānau.
Housing strategy
In 2018, the Trust created Whātua Āhurutanga which included two nominees each from the boards of Whai Māia and Whai Rawa, as well as two Trust board members in addition to two whānau members. The komiti was disbanded in June shortly after delivering the strategy to the trust and on August 5 the Trust presented the strategy to the hapū at a Whānau Wānanga.

The report makes recommendations which the Trust is still considering. Whānau are reminded that this document is the strategy recommended by Whātua Āhurutanga but about which the Trust must still decide whether it accepts it as a whole, or in part – or none at all. The strategy is well researched and backed up by evidence gained from extensive whānau consultation. The Trust's key challenge is to make sure the issues identified by Whātua Āhurutanga are addressed in a way that is appropriate for the Trust.
The allocation of homes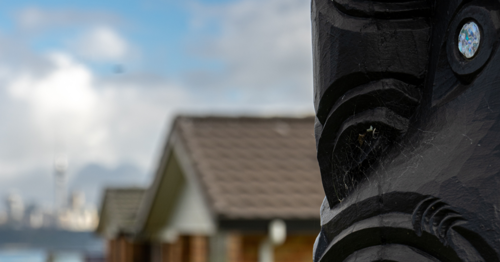 All eligible whānau who have expressed an interest to rent, will be considered for allocation whenever housing becomes available.

Recommendations based on criteria set in the housing allocations policy (home fit for purpose, affordability, priority and demonstrated needs) are prepared and put forward as anonymously as possible by Whai Māia tenancy manager/staff to housing allocation committee.

Housing allocations committee meet, review recommendations, and allocate appropriately based on above criteria.

Housing tenancy manager offers tenancy agreement to whānau applicant.
Whānau applicant agrees to all terms and conditions set in tenancy agreement.
Note: Where more than one whānau household are eligible and equally meet the priorities, the allocations committee will give preference to registered members that have updated housing rental details and /or submitted their application earlier.

Ngāti Whātua Ōrākei homes on the papakāinga that are transferred to Whai Māia for rental purposes (Whai Māia homes), will be made available to eligible whānau of Ngāti Whātua Ōrākei to rent. Whai Māia currently manages 82 rental properties.
How to apply for rental housing
Whai Māia rental homes will be used to facilitate the retention of land title by active occupation and enhance the connection of whānau to the papakāinga.

In order apply you must be a registered member of Ngāti Whātua Ōrākei. If you are unsure on your registration status you can call one of our hapū ora navigators on 0508 6967 2534.

Applications for rental properties are done in person at our office at 230 Kupe Street, Ōrākei or via email through the tenancy team members as we require detailed information to produce accurate profiles for the housing allocations committee.

Click here to download the NWŌ Hapū Rental Housing application form.

Once all information is received you will then be placed on the NWŌ rental housing list. You are required to update your details every 6 months, failure to do so may see you come off the waiting list.
Download the NWŌ Hapū Rental Housing application here
FAQ
Whai Māia Ltd are often mistaken as the property owners. This is incorrect. The actual property owners are Whai Rawa Ltd, the commercial arm of Ngāti Whātua Ōrākei. Whai Rawa and Whai Māia as subsidiaries of the Trust each have a function when it comes to housing. Whai Māia lease the properties from Whai Rawa then sub-lease to our whānau. The Whai Māia tenancy manager, manages this process.

Whai Rawa do the approved maintenance across the rental housing stock and liaise with Whai Rawa approved and appointed contractors to make sure the homes are in good living condition. Where there is maintenance to be done and it is agreed by Whai Rawa as part of their obligation, they will pay for this work.

Whai Rawa will not cover damages and/or maintenance work caused by tenants e.g. smashed windows, blocked drains etc. Tenants cannot whatsoever do any altercations or major renovations on these rental properties.  This is considered a serious breach of the tenancy agreement.