NWŌ Survey
Me tupu i a wīwī, me tupu i a wāwā
Take part in the Me tupu i a wīwī, me tupu i a wāwā - NWŌ Survey today!
The NWŌ Survey is one part of an intergenerational project vital to the ongoing growth and success of Ngāti Whātua Ōrākei.
It aims to gain insights into the cultural, social, economic, health & wellbeing of our iwi to ensure the best future of Ngāti Whātua Ōrākei over all stages of life and across generations. By deepening our understanding of the tribe, we can better develop programmes and services that cater to the needs of our people. Mā tātou, mō tātou!
 "Me tupu i a wīwī, me tupu i a wāwā" speaks of Ihenga's prophecy for his people. Although small in number, they will grow here, there, and everywhere, being strong and resilient, in the heat of it all.
Check out the process of how well collect and store responses below or read through our FAQ for more info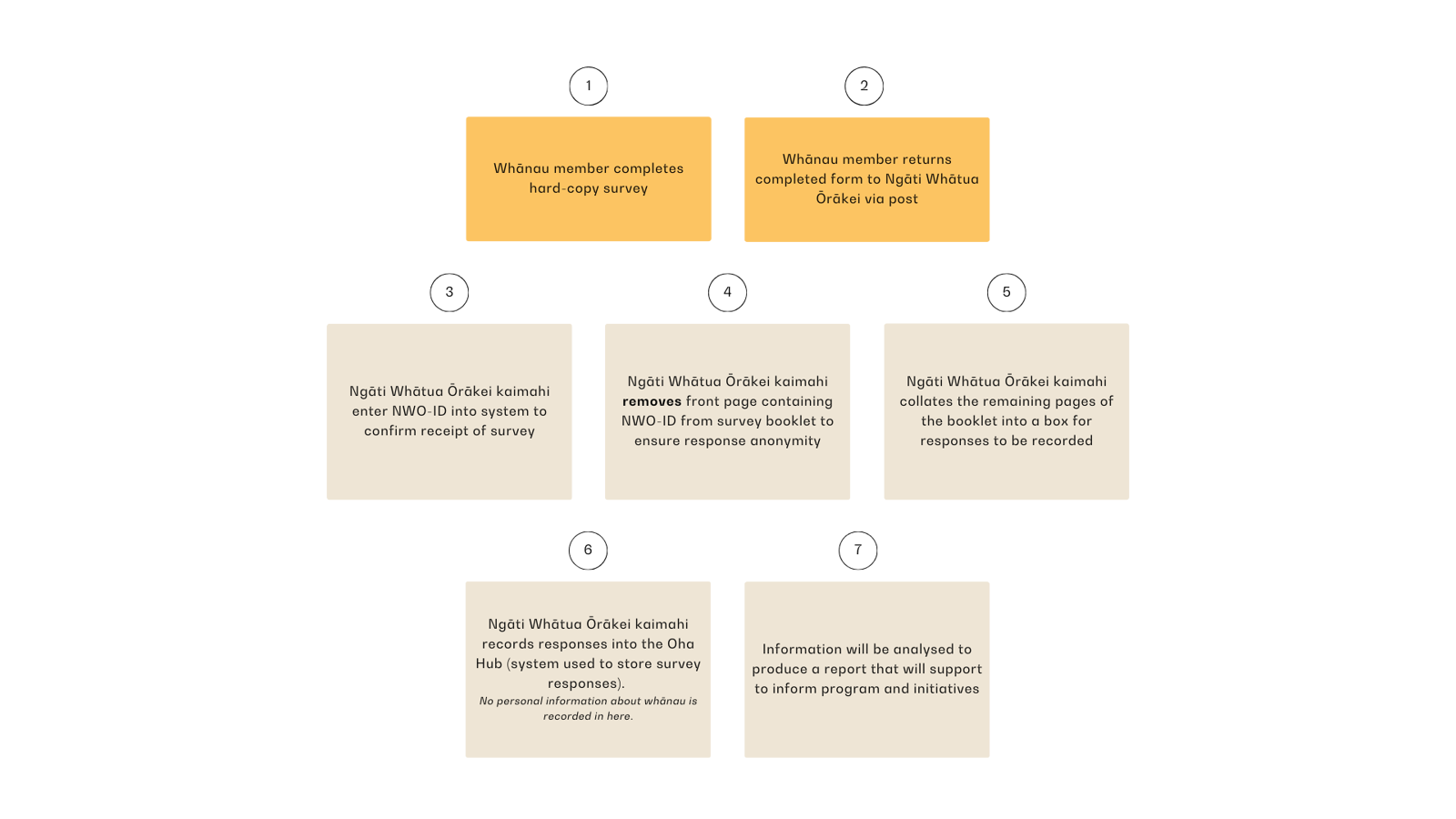 Learn more about the NWŌ Survey
Check out our NWŌ Survey FAQ! If you have any futher pātai please get in touch with our team - whaimaia@nwo.iwi.nz
FAQ
The NWŌ survey includes a range of different questions that ask about the current cultural, social, economic, health & wellbeing status of you and your whānau.

For more information about how we collect and store your responses, click here.

Survey responses will be collected and analysed. From this data an in-depth report of findings will be created and shared with whānau. These findings will contribute to

growing our understanding of the tribe

 so we can better develop programmes and services that cater to the needs of our people.

It will also help us understand how we best make decisions about our assets.

The NWŌ Survey is for hapū registered members aged 18 and over.  Our goal is for 4,000 registered members to take part.

Surveys are to be completed individually by registered members. Help us craft the future of Ngāti Whātua Ōrākei. 

The NWŌ Survey will launch 1 December 2023 and will close 1 February 2023. 

Hardcopy survey forms will be sent to households of NWŌ uri to enable equal access. An online form will also be available in January 2024. 

Findings of survey will be shared with whānau once information has been analysed by the research team. The research team includes kaimahi from our partner organisation, Koi Tū.

The NWŌ Survey will include a range of multiple-choice questions that talk to your current cultural, social, economic, health and wellbeing position.

We understand some of these pātai touch on sensitive topics however we encourage whānau to provide your honest insights to gain a better understanding of how things are at this time.

For more information about how we collect and store your responses, click here.

This is an iwi driven, and iwi directed project, because it is all about us, and for us, the people of Ngāti Whātua Ōrākei, our health, our wellbeing and ultimately our future. 

We have a team of researchers from Koi Tū: The Centre for Informed Futures supporting us. For more information on Koi Tū click here.

The NWŌ Survey will be conducted with rigorous ethical consideration and oversight from the iwi and from the University of Auckland, that ensures the utmost respect, privacy, and safety of all those of the iwi participating. 

Before we can start to think about how to improve the health and wellbeing of all iwi members, we need to start with a better understanding of how things are at the moment. We therefore want to gather as much information as we can on a wide range of measures. This data collection and analysis phase of our the survey has 2 main stages:

Stage 1: Stocktake and analysis of existing data

We will start by pulling together all of the data that Ngāti Whātua Ōrākei already collects, assessing what we can learn from it, and identifying what further information would be helpful. 

Stage 2: Further information collection 

We will then look to fill in any gaps identified in stage 1. This will involve drawing on data collected by government agencies, such as through the census. 

Together we want to ensure the best for the iwi: that the survey aligns with our own tikanga principles, as well as the iwi goals and aspirations. 

The research will be conducted with rigorous ethical consideration and oversight from the iwi and from Koi Tū, that ensures the utmost respect, privacy, and safety of all those of the iwi participating directly in the survey.

We understand how sensitive this data is, and how important it is to use it appropriately and protect your privacy. None of the data we analyse will include names or contact details of individuals. Access to the data will be limited to the members of the research team. Ngāti Whātua Ōrākei will retain sovereignty and ownership of all the data collected and the results of our analysis. 

Click here for more information on our Privacy Policy. 
Me tupu i a wīwī, i a wāwā, turia i te wera, piri ki te rito o te rengarenga,
waiho me whakapakari ki te hua o te kawariki.